What would it be like to have everything that the average citizen could not have—riches, a prestigious education, a majestic home—yet still not be able to eat with those you call family? If we took a time travel machine and went back to 18th century England, Dido Elizabeth Belle Lindsay may be able to tell us. Dido's remarkable story is told through Belle, a new lush period piece directed by Amma Asante and written by Misan Sagay (Whose credits include Their Eyes Were Watching God and The Secret Laughter of Women). An official selection of the 2013 Toronto International Film Festival, this historical drama has earned raves from critics for outstanding cast performances and an inspiring and socially relevant story.
In 1779, a painting of two aristocratic young women was hung in the Kenwood House in England. What's particularly striking about this painting is that it depicts a White person and a Black person standing at the same eye level, and such a painting had not been seen before in England. The Black woman is Dido and the White woman is her cousin Elizabeth. Though there is still more to uncover about Dido in the real world, the painting caused as much of a stir as the woman did herself—just for her mixed-race background, lineage, and upbringing. Dido (Gugu Mbatha-Raw) was the illegitimate child of Captain Sir John Lindsay (Matthew Goode) of the Royal Navy and an African woman. Instead of abandoning her, the Captain brings her into the estate of his great-uncle Lord Mansfield (Tom Wilkinson) and his wife (Emily Watson), who raise her alongside Elizabeth (Sarah Gadon). While Dido becomes well-educated and is treated very well in her household, she is excluded from other activities, notably from dining with her family and being present when guests visit the estate. She is considered too high in class to associate with servants, yet too low in class to associate with those in noble social standing. As she continues to experience this unfair treatment at home and in society, she falls in love with the lawyer John Davinier (Sam Reid), who is considered to be in a class beneath her. Their affair shapes Lord Mansfield's role as Lord Chief Justice, who is working on a revolutionary case that looks to end slavery in their country.
The intersection of class and race is part of what makes the subject of Belle so interesting. While Dido is raised in privilege, she does not have the opportunity to experience it fully like Elizabeth does, and when she falls in love, it is looked down upon because of her status as an aristocrat and not as a mixed-race woman. The context involving slavery will make this drama one to see for history buffs and those interested in social justice. Last month, the United Nations hosted a screening of the film and panel discussion featuring Asante, Mbatha-Raw, and others as part of commemorative events on Slavery and the Transatlantic Slave Trade to much acclaim.
The film also stars Penelope Wilton, Miranda Richardson, James Norton, and Tom Felton. The primarily British cast boasts some of the most well-known talents in the film industry, but Mbatha-Raw (Who starred in the short-lived J.J Abrams-created series Undercovers and appeared in the FOX series Touch alongside Kiefer Sutherland) delivers a stellar performance as the title character. Colin Covert of the Minneapolis Star Tribune describes the actress as "luminous" and praised that she "more than holds her own" in the role. Of casting Mbatha-Raw, Asante said, "It was very important that we got an actress that you would empathize with, whose predicament you would really understand. She's so heartfelt in her performance that you can't help but feel for her."  In addition to spotlighting a woman of color in a unique leading role, Belle is also directed and written by women of color in Asante and Sagay, truly making this film one to already celebrate.
Not only is Belle full of heart and soul, but the film is as beautiful on the outside as it is on the inside. The stunning and atmospheric landscapes of England are captured with elegance by cinematographer Ben Smithard (My Week With Marilyn). The high-end fashions of the Regency era are recreated by costume designer Anushia Nieradzik, and production designer Simon Bowles recreated the magnificent Kenwood House using various immaculate homes throughout London. Isle of Man and Oxford served as additional filming locations.
Belle is a multilayered motion picture with something for every indie film lover to enjoy. Whether it's a tumultuous love story, a fascinating historical account, a visually pleasing aesthetic piece, or a riveting tale of overcoming adversity, this is a movie to put on your must-see list. Check it out when it opens in select theaters on May 2, and view the trailer below.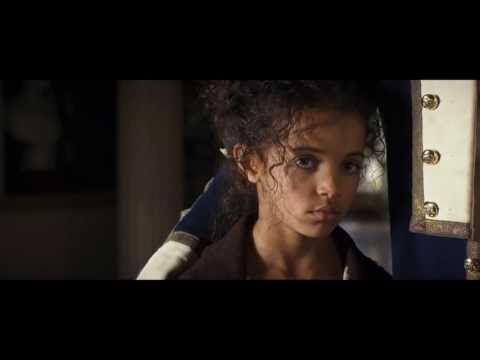 Written By Karen Datangel: A San Francisco girl through and through. She has called the City by the Bay (and its suburbs) home for all of her 20+ years and counting, earned her B.A. in Journalism from San Francisco State University, and proudly wears the colors of the Giants and 49ers. When this budding freelance entertainment/lifestyle journalist and blogger isn't writing or working at her day job, she's obsessing over film, pop music, baseball, and cats and impressing loved ones and strangers with her contemporary pop culture knowledge. She also enjoys exploring new hot spots and frequenting familiar places in and around her city as well as others.